I'm no Royalist (if i've read that once ive read it a thousand times this past 24 hours), but by crikey I know a phenomenal woman when I see one.  I named my little business here with a nod to another strong woman - of course Boudicca, Royalist or not, I can't help but admire strong women who walk their talk. I had set aside today to make my new kelpie design, but after yesterday's news I was struck with a sad like I hadn't ever imagined I would feel at such news. Mumma Iceni really loved the Queen -...
---
He came in to our lives like a wrecking ball at 4 years old and changed our lives completely. All of a sudden, this matted ball of fluff dictated our every move. We didn't know then just how poorly his mind was. All we knew was that he needed love, and we all promptly fell head over heels for him. Jasper would bite you at the drop of a hat. You could be tickling him one moment and the next you'd be shrinking from his teeth. But still we loved him. We had him assessed for pain, we had trainers ...
---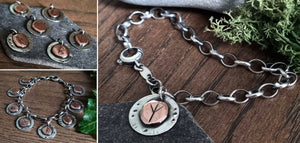 Although I haven't really been away. But I have been distant. Working in the background, keeping everything on track…and I did well…until I didn't! And I don't mind sharing this, because I feel these things aren't shared enough! I don't hide that I suffer terribly from anxiety, I wear it on my sleeve where I can see it, where it can't sneak up and bite me on the bum! Sometimes it pokes into every soft vulnerable part of my life, creating uncomfortable sores and occasionally paralyzes me in a way that I know is ridiculous, but have no way of...
---
• iceni isle of wight • isle of wight • isle of wight bangle • metalsmith tutorial • silver stacking bangle • stacking bangle tutorial • sterling silver
I was making so many of these the other day, I thought I'd do a little blog and show the process! They're pretty little bangles and look lovely stacked with other bracelets and jingles! Here's how I do it :) All the skinny bangles start their lives as plain round 2mm sterling silver wires. I get this in a coil and unravel as much as I need. The wire is then trimmed to size. Before the ends can be soldered, they need to be filed completely flat (very important, if they're not completely flat and don't match perfectly they're not...
---
• children's story • children's story about a mouse • little prince • mouse • mouse necklace • mouse pendant • the little prince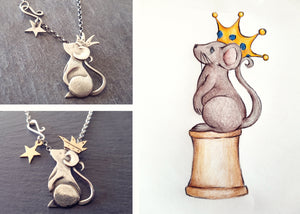 Little Prince got a gold crown! If you've followed me for a while, you might know that Little Prince always had a silver crown – that was until I was asked to make it in gold…and that made my little green heart glow to see him topped with such grandeur. There is a story to this piece, the origins of my Little Prince pendant. ~ When I was a child my Mum used to visit an elderly lady to do chores and take shopping to her. Being a little, I'd tag along with Mum. The lady's house captivated me -...